Mega audino
File:Mega Audino.png

Some attributes

First
Gender: Female or Male
Second
Type: Fairy
Third
Unknown

Other attributes
Mega audino is a Mega version of Audino. As you can see it can be found in Pokemon X and Y you can make it mega evolve with a audinite stone.
Appearance: Mega Audino has red eyes with three white pupils it's coat color is white, light pink, and tan it has kind of a chubby figure it has pink and white ears that are kind of curled its ears have a tan color it has curly stems coming out of its ears. Its tail is just a white kind of round shape. It has a white puff ball on its chest. It also has pink tips at the end of its ears, paws, and coat. It also has a shape at the back of its legs.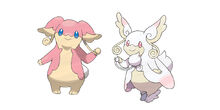 Ad blocker interference detected!
Wikia is a free-to-use site that makes money from advertising. We have a modified experience for viewers using ad blockers

Wikia is not accessible if you've made further modifications. Remove the custom ad blocker rule(s) and the page will load as expected.